I am so excited to be participating in a new meme every Thursday hosted by
Iceybooks
, this meme is designed to help us bloggers get some help from our reader's on what to read next, so every week I will post 3 books that I am trying to decide between and you guys can vote on which one you think that I should read next. Cast your vote through the poll at the bottom of this post.
Happy Reading!
Kristin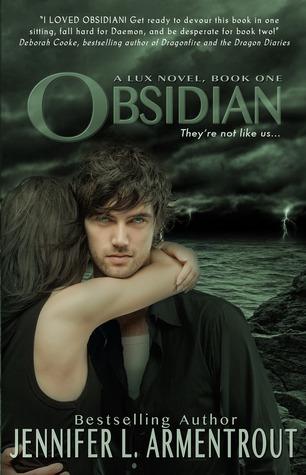 Obsidian (Lux #1) By: Jennifer L. Armentrout
Goodreads Summary;
Starting over sucks.

When we moved to West Virginia right before my senior year, I'd pretty much resigned myself to thick accents, dodgy internet access, and a whole lot of boring.... until I spotted my hot neighbor, with his looming height and eerie green eyes. Things were looking up.

And then he opened his mouth.

Daemon is infuriating. Arrogant. Stab-worthy. We do not get along. At all. But when a stranger attacks me and Daemon literally freezes time with a wave of his hand, well, something...unexpected happens.

The hot alien living next door marks me.

You heard me. Alien. Turns out Daemon and his sister have a galaxy of enemies wanting to steal their abilities, and Daemon's touch has me lit up like the Vegas Strip. The only way I'm getting out of this alive is by sticking close to Daemon until my alien mojo fades.

If I don't kill him first, that is
Defiance (Defiance #1) By: C.J. Redwine
Goodreads Summary:
Within the walls of Baalboden, beneath the shadow of the city's brutal leader, Rachel Adams has a secret. While other girls sew dresses, host dinner parties, and obey their male Protectors, Rachel knows how to survive in the wilderness and deftly wield a sword. When her father, Jared, fails to return from a courier mission and is declared dead, the Commander assigns Rachel a new Protector, her father's apprentice, Logan—the same boy Rachel declared her love for two years ago, and the same boy who handed her heart right back to her. Left with nothing but fierce belief in her father's survival, Rachel decides to escape and find him herself. But treason against the Commander carries a heavy price, and what awaits her in the Wasteland could destroy her.

At nineteen, Logan McEntire is many things. Orphan. Outcast. Inventor. As apprentice to the city's top courier, Logan is focused on learning his trade so he can escape the tyranny of Baalboden. But his plan never included being responsible for his mentor's impulsive daughter. Logan is determined to protect her, but when his escape plan goes wrong and Rachel pays the price, he realizes he has more at stake than disappointing Jared.

As Rachel and Logan battle their way through the Wasteland, stalked by a monster that can't be killed and an army of assassins out for blood, they discover romance, heartbreak, and a truth that will incite a war decades in the making.
Through To You By: Emily Hainsworth
Goodreads Summary:
Camden Pike has been grief-stricken since his girlfriend, Viv, died. Viv was the last good thing in his life: helping him rebuild his identity after a career-ending football injury, picking up the pieces when his home life shattered, and healing his pain long after the meds wore off. And now, he'd give anything for one more glimpse of her. But when Cam makes a visit to the site of Viv's deadly car accident, he sees some kind of apparition. And it isn't Viv.

The apparition's name is Nina, and she's not a ghost. She's a girl from a parallel world, and in this world, Viv is still alive. Cam can't believe his wildest dreams have come true. All he can focus on is getting his girlfriend back, no matter the cost. But things are different in this other world: Viv and Cam have both made very different choices, things between them have changed in unexpected ways, and Viv isn't the same girl he remembers. Nina is keeping some dangerous secrets, too, and the window between the worlds is shrinking every day. As Cam comes to terms with who this Viv has become and the part Nina played in his parallel story, he's forced to choose—stay with Viv or let her go—before the window closes between them once and for all.